Jean Shafiroff is an active volunteer leader of several New York City and Southampton charitable causes. Her managerial skills, compassion, generosity and enthusiastic dedication are among her strongest traits. She possesses a remarkable ability to connect different charitable groups with interested people and resources.  In her philanthropic career, Jean wears many hats as a board member, chairwoman, underwriter and hostess of numerous charity events. Each year, Jean is actively engaged in chairing or co-chairing several large charity Galas. In 2010 and 2011, she served as the chairwoman of the Southampton Hospital's Annual Summer Galas which successfully raised $1.7 million and $2.0 million, respectively. She will serve as the chairwoman of the Southampton Hospital Gala, once again, in the Summer of 2013. Jean's current board memberships include JBFCS, The New York Women's Foundation®, French Heritage Society, The Couture Council, Lighthouse International Advisory Board, Southampton Bath & Tennis Club's Charitable Foundation and Honorary Board Member of the Southampton Animal Shelter.
Jean holds an MBA from the Graduate School of Business at Columbia University and a BS in physical therapy from Columbia University's College of Physicians and Surgeons. She has worked both in public finance and private partnerships on Wall Street. Prior to that, she was a physical therapist at St. Luke's Hospital in New York City. Jean is married to Martin D. Shafiroff, an investment advisor, and together they have two daughters, Jacqueline and Elizabeth, who share their mother's interest in charitable causes. They reside in New York City and Southampton.
An avid style and fashion trend setter, Jean has been featured on Hampton's Magazine Best Dressed list, Summer 2012; has been profiled on the Chic Index; and is an active board member of The Couture Council of The Museum at the Fashion Institute of Technology.
Jean's club memberships include the Metropolitan Opera Club, The Double's Club and Southampton Bath and Tennis Club. Her hobbies include writing, travel, style and fashion.
---
Oscar de la Renta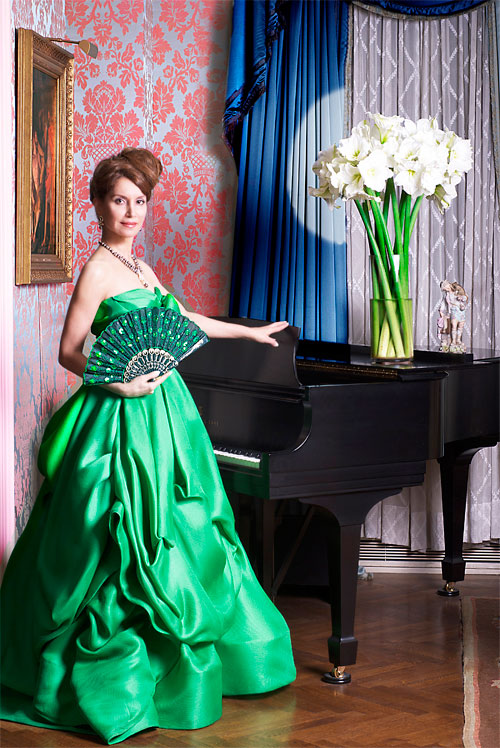 This emerald green Oscar de la Renta silk gazar rosette ball gown is in the Pantone color of the season and is paired with Van Cleef and Arpels accessories.
---
Oscar de la Renta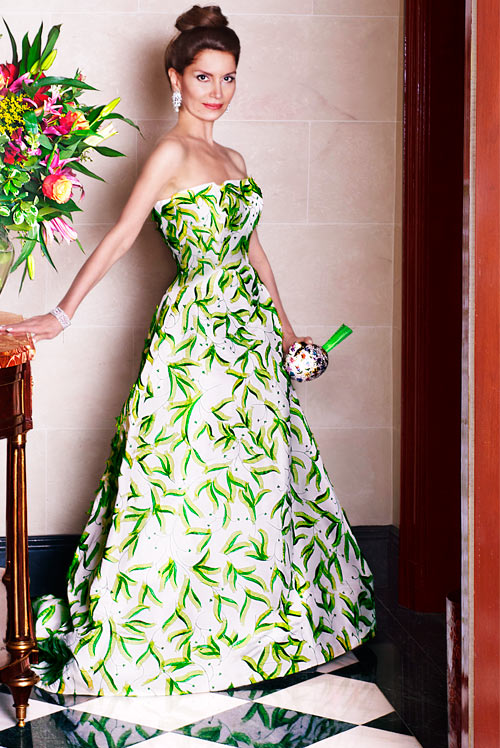 This stunning ribbon silk-faille gown is by Oscar de la Renta and is paired with antique-silver Manolo Blahnik sandals and a swan- shaped beaded Judith Leiber minaudiere. Van Cleef and Arpels diamond drop earrings and a Buccellati diamond watch were added to complete the look.
---
Carolina Herrera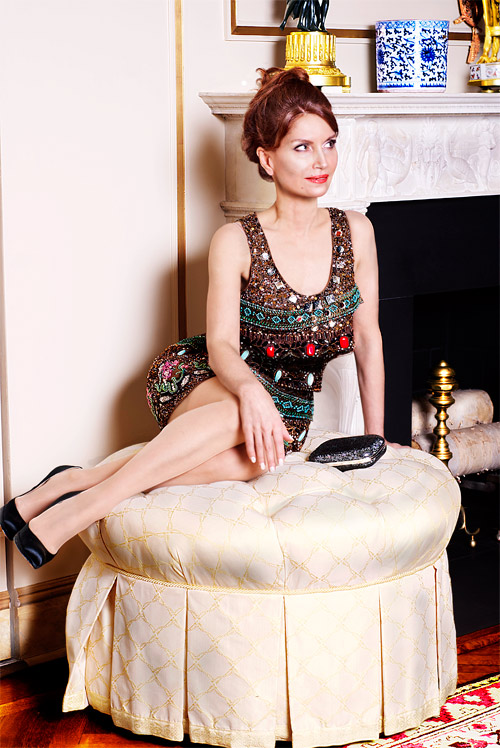 This outfit was composed around a backless Carolina Herrera sequin palette halter silk gown. Accessories consist of a plastic, spiked silver cuff and chandelier earrings by Van Cleef and Arpels. The shoes are silver-grey Oscar de la Renta sandals.
---
Nanette Lepore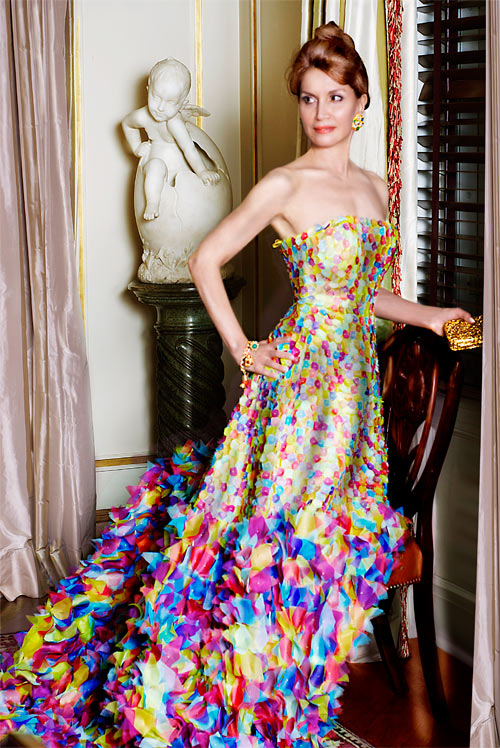 The outfit consists of an intricately beaded and sequined sleeveless Nanette Lepore mini-dress, black satin Christian Louboutin platform pumps and a Judith Leiber beaded black clutch.
---
Fabiola Arias
The outfit revolves around a silk multi-colored "gumdrop" dress custom designed by Fabiola Arias. The shoes are platform peep-toe brushed gold designed by Domenico Vacca and a jeweled minaudiere by Clara Kasavina. The charm bracelet is a vintage piece and the earrings are hammered faux-gold with faux aquamarine and faux peridot jewels from Bergdorf Goodman.
---
Victor de Souza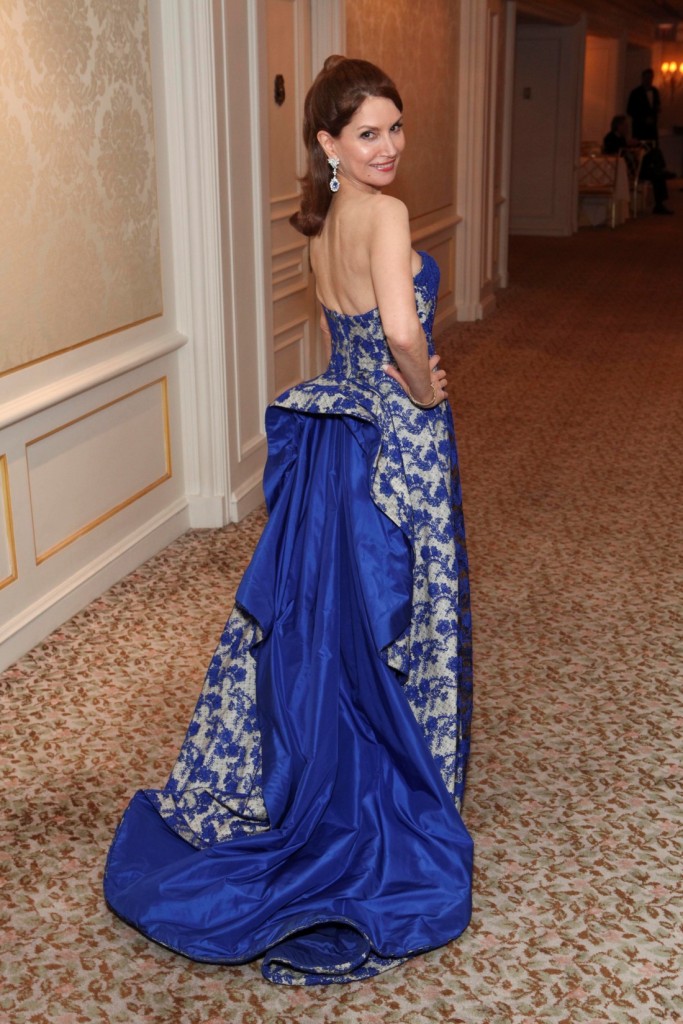 The ball gown revolves around a dress designed and customized by Victor de Souza. The color of the gown is an extraordinary cobalt blue—similar to lapis lazuli. The main fabric of the dress is a beautiful silk French lace, and the train of the gown is an origami draping of cobalt blue silk-satin. The dress is accessorized with a contrasting red Oscar de la Renta clutch and the bracelet worn is a diamond and sapphire bangle by Van Cleef and Arpels with sapphire and diamond French marks drop earrings.